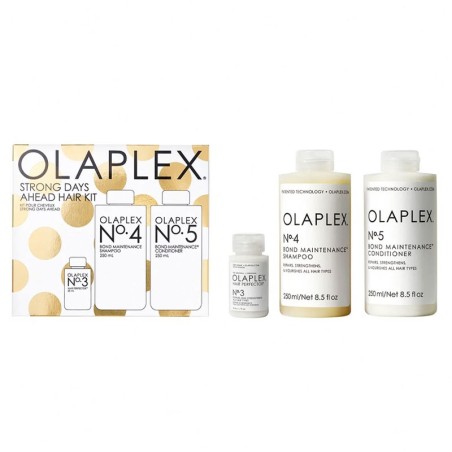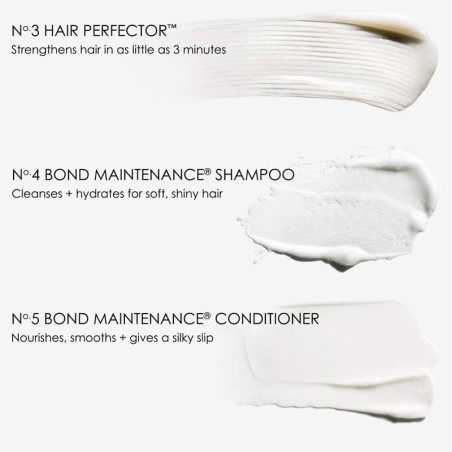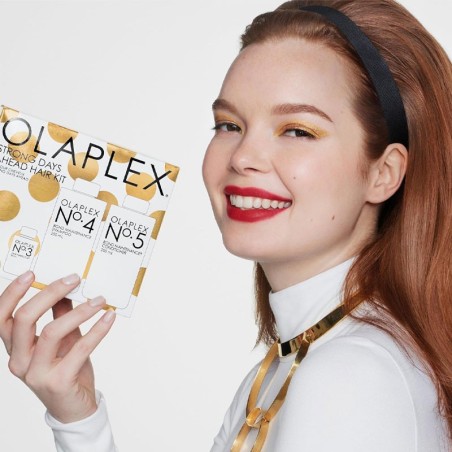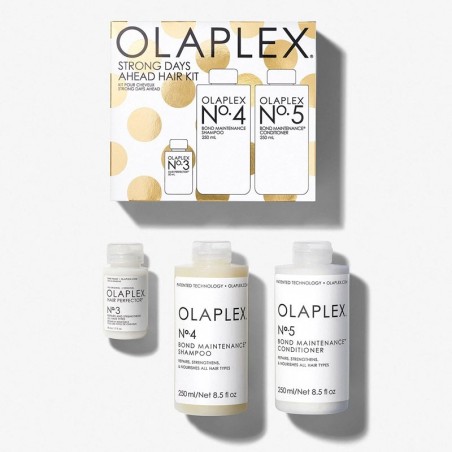 Designed for all hair types , especially those with visible damage, Olaplex will help you prepare your hair to absorb the nutrition it needs for maximum repair. With these mini sizes from Olaplex you can enjoy healthy, cared for and beautiful hair.


THE KIT CONTAINS:
Olaplex Hair Perfector Treatment Nº3 (50 ml)
Olaplex Bond Maintenance Shampoo Nº4 (250 ml)
Olaplex Bond Maintenance Conditioner Nº5 (250 ml)


How to use Olaplex ? Daily treatment:
Wet hair with water or Olaplex 0 . Apply Olaplex No. 3 Hair Perfector to strands and comb, distributing the product evenly, from roots to ends, and let it act for a minimum of 10 minutes . If you have very damaged hair, leave it longer. (You can leave the product in your hair for up to 12 hours maximum).


Rinse hair and wash with Olaplex No. 4 Bond Maintenance Shampoo. Then condition with Olaplex No. 5 Bond Maintenance Conditioner. Leave it on for 3 minutes and then rinse with plenty of water. It then ends as usual.
Be the first to ask a question about this product!
Olaplex Strong Days Ahead Hair Kit 2023
The Olaplex Strong Days Ahead Kit Pack has everything you need to pamper your hair and is also the perfect gift for someone special's hair. It comes in a beautiful gift box!
Enjoy all the benefits of a complete Olaplex treatment: Repairs, rebuilds, reinforces, hydrates and protects. This limited edition contains 3 must-have Olaplex products: Olaplex nº3 Hair Perfector (50ml), Olaplex nº4 Bond Maintenance Shampoo (250ml), and Olaplex nº5 Bond Maintenance Conditioner (250ml).